We love homemade dinner rolls- but who has the time? This recipe is start to finish in about 30 minutes, and DELICIOUS! Try them out- you're sure to enjoy!
Quick and Easy 30 Minute Dinner Rolls from One Ash Homestead
2 cups + 4 TBS. warm water
2/3 cup oil
4 TBS. dry active yeast
1/2 cup sugar
3 tsp. salt
2 eggs
7 cups flour
(note, these measurements can be cut in 1/2 or doubled to make different sized batches. This makes about 30 rolls)
Heat your oven to 400 degrees.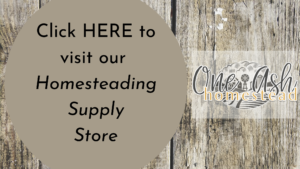 In your bowl combine the water, oil, yeast and sugar. Whisk thoroughly and allow it to rest for 10 minutes.
Stir in the beaten egg. Then add the salt and flour. Stir until the dough sticks together. Knead for just a minute or so.
Form the dough into golf ball sized balls and place them on a greased pan with the sides just touching. Allow the dough balls to rest for 10 minutes.
(I often let them rise longer, just depends when I want to have them ready)
Bake for 10 minutes or until golden brown. Brush with melted butter, or just leave them plain!
Enjoy!
~affiliate link- do you enjoy shopping on Amazon? everything purchased through one of our affiliate links provides us with a small commission that helps fund our blog. thank you for your support!