Admit it, you've heard it a million times- "do these things and you can live a simple life!". But we read about everything from minimalism to self-sufficiency. And usually we don't get enough information to make the ideas work for our lives. In this post our goal is to give you 5 simple steps that can guide you toward a more simple lifestyle.
Most of us know the Amish live what appears to be a simple lifestyle. So wouldn't it make sense that we take a few tips from how they live to help simplify our own lives?
We have done that here on the homestead and can tell you it works. Once you dig in you can find all sorts of ideas and ways to ease up some of the stresses in your life by learning and implementing the habits of the Amish culture. While we won't ever be Amish, we have spent years learning about and embracing the culture and feel blessed to be able to share many of their ways and cultural values.
Ask yourself this- do you need to have a farm or land- be a homesteader or move off-grid to live a simple Amish lifestyle? What if you live in an apartment in the city? Does that mean you can't live a simple life? So many of those idea lists that we read for simple living require that you give up working your outside job. But what if you have a 40 hour a week, sitting in a cubicle all day type job that you need right now? Does that mean you can't live a simple life? Absolutely not!!!
With our 5 easy steps we believe anyone can be on the fast-track to getting off the fast-track and living a simple Amish lifestyle.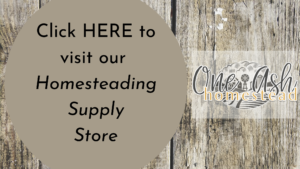 But before we start with our list of 5 steps, there is a basic that we all need in our lives, and something that is at the core of the Amish lifestyle. And that's the joy and hope that comes from our savior Jesus Christ. For anything to work in our lives we need to have the hope that only a relationship with Jesus can provide. He is our hope, our wisdom, our discernment and guides us to all the perseverance we need to be successful in our goal of a more simple lifestyle.
We believe that along with our relationship with Christ, our 5 ideas work toward achieving a simple Amish lifestyle no matter where you live. Take a look and see if there is something here that you can implement in your life to help you live a less complex and more rewarding life~
1.Put down the electronics. All right. This is probably one of the hardest things to do and that's why I listed it first. But, honestly, once you get over the addiction so many of us have formed to our smart phones & other devices, you will start feeling healthier and just better over-all. You will eliminate that stress of checking your email every few minutes or being on social media going over your news feed and "liking" things you probably could care less about (come on, we all do it).
Honestly, as a society we have made it acceptable to ignore the people we are around in favor of our devices. How do you break the habit, you may ask? Well, that depends on you and your situation. I understand that setting only a few minutes a day to check your phone may not be feasible in your situation- you may need to be connected for work or business. Even if that is your situation you can still stay off of some things.
-You can make the effort to put the phone or computer down when you're with others, at the dinner table or in a conversation. Turn it off, or at least turn it over. Don't allow that screen to light up and distract you.
-You can have certain times you set as a routine during the day when you don't look at the phone or computer. Create personal no-device times, set the boundaries with others, and really stick to it.
-Try having a social media holiday. Force yourself to stay off social media for a day. You will be amazed at how little you miss out on. And when you do go back the algorithms will allow you to see things you forgot you were connected with!
The point here is…..just use electronics less and you will start seeing a difference.
Purge.

There is no better time than right now to start purging stuff around the house. I mean, do you really need that huge stack of magazines on your nightstand from 2018? Or how about those duplicate gadgets in the kitchen? Or those pants that haven't fit since high school? You can live more simply by getting rid of the excess. There are so many ways to bless others by getting rid of your own messes!
-Start with one spot at a time. Don't get overwhelmed by a household full of things to sort through. Focus on one table, one cabinet, one closet. And before you know it you will have accomplished a lot.
-If items are still in good condition, think about who you know that might like them. Can you share your items with someone else who could use them? My friends and I often "shop" through each others things prior to us donating or selling our purged items. You just never know what someone could use.
-Donate. There are so many non-profit locations who can use most anything you have and no longer want or need. Whether it's clothing, kitchen items, or something else, there are many places who accept donations. The locations will then either share the items directly with those in need, or they will sell them to earn money for their mission or cause. Make sure to do a little research about the donation location before you share with them. I believe it's a blessing to ourselves when we share with a group that we believe in!
-Have a sale, list items online and sell what you no longer want. You can do a little research on this one too. Go online and see what things are listed, what seems to sell and what the prices are that folks are getting for things. You can either list things individually (this is more time consuming but may bring a higher price) or you can have a sale. Call it what you want- tag sale, rummage sale, yard sale, garage sale- but if you can get the word out people will come and trade you some cash for your no-longer-desired items.
-Throw it away. While I don't encourage you to be wasteful, there are some items that just belong in the trash. If an item is completely worn out, broken beyond repair, or dangerous, then it's probably time to take a trip to the trash can or the dump. Just remember to be respectful of any recycling opportunities.
So start to go through and throw away/share/donate/sell what you don't want anymore.
There are studies that show that by decreasing the clutter in your life, you will begin to see your life change and you will feel less stress. You really don't need as much stuff as you think you do.
Don't eat in front of the TV.

While it's easy to catch up on the news or the latest shows while eating dinner, isn't it nicer to sit around a table and eat with others? This sort of goes along with turning off your electronics, but here are some additional ideas.
-Use your table. You may not be able to do it every night, but try to make a point to actually eat around the dining room or kitchen table at least a couple of times a week. Don't have a kitchen or dining table? Then get creative- lay out a blanket and make a picnic on the floor, eat around the coffee table, put up a temporary card table, put a board over saw horses with a tablecloth. In other words don't make excuses to not do this!
-Be intentional. In keeping with eating around the table, set certain days and times during the week that everyone will get together, and eat together, without distractions. It may take a few times to get everyone in the habit, but once you do this can become a cherished tradition. It doesn't matter how many people live in your home, this can be precious time for all.
-Live alone? You can still make intentional routines for yourself. Set the table, cook a really good meal, toast yourself and spend the meal reflecting and being thankful for all of your blessings. The positive focus of any intentional meal will make a change in your attitude toward simple living.
So instead of catching up on the news, catch up on what's going on in your friends & family's lives and take time to be grateful. Enjoy the company of others and remember to turn off all your devices!
Take up a hobby.

I have always had hobbies. From the time I was a young girl I have had a need for the relaxation of creativity. Now not everyone is a seamstress, or crafter, but there are so many things you can do to take your mind to a creative and relaxed place. I know people who love to read, sing, play an instrument, write or journal, create new recipes, and even (dread!) exercise! Maybe you like playing games or working puzzles. It could be grooming your beloved dog. This list can become endless, but here are a few of my thoughts around hobbies.
-Set your mind to work. If you have a hobby as a part of your life chances are you will see the normal every day sights as something new. You will view the most simple thing as a part of something else. The things you look at can be seen as future up-cycling, repurposing, a new combination of textures or colors, or a new shape. They can be the basis for your writing or your music. They can inspire a fiber project, a new design, a painting, words for a poem. Slow down to see, really see, what you are looking at and marvel at the creativity of our maker.
-Concentrate only on what you are doing. This will happen naturally as you create. There is no way you can use the creative part of your brain and worry or stress at the same time. Creating does something that makes you focus on only what you are doing. It forces you to slow down and just enjoy something fun.
-Be a life long learner. If you love your hobby then you have a passion for it. And that passion usually turns into wanting to know all you can about the hobby. Here is my example- I have been sewing since I was 8 (that's a long time!). I have gone through phases of not doing it as much, but I have always had a passion for sewing. I used to make all my own clothes, make all home fashions, and enjoy the challenges of difficult designs. As time has passed I have continued to do some of those things, but I have evolved into learning more about the machines themselves. Now I get complete enjoyment out of repairing vintage machines, learning how to use the various older models, and have even taken up non-electric sewing with my treadle machine. Do I know everything about sewing or machines? Absolutely not! And each new machine, each new project, focuses my mind and has me learning something new.
We all get so caught up in life that we almost never make any time for ourselves or for any fun. By taking up a hobby, it creates an escape and let's you take a breather from your hectic days. If it's only a short amount of time each day, a little focus on your favorite hobby will relax and simplify your mind.
Reduce stress causers.

You can see a common theme on all these topics- get rid of excess stress in your life. I know- this is so much easier said than done. This is one of those things I mentioned at the beginning of this post. A lot of people tell you what to do but don't have any real ideas of how to do it. Maybe this list will help. Whether it be to de-clutter, turn off the phone or stay away from the news for a night, all of these things help make your life simpler by deleting the unnecessary things. Here are just a few more ideas to help reduce the stress causers in your cluttered life.
-Look at and examine your life. Really think about it, pray about it. Are there things (or people, for that matter) that are causing stress & drama? This may sound a little self-centered, but are you saying "yes" to things you really don't want to do? Are you over extending your time and abilities just to please others? Doing that adds stress and sure isn't simple. Your calendar becomes filled up with little to no time for the things we talked about in the first 4 steps above.
-How many people are you "friends" with on social media that you would never talk to in person about your life? Then why are you sharing your life with them online? Are you feeling pressure to keep up with the perfect glimpses of other peoples lives that you see? Isn't amazing what a good camera shot can convey? Do you want to have people around you that you only see those snapshots of? It may be to difficult to unfriend people, but you can try taking advantage of those options to "snooze" someone for 30 days. Then you can decide if you really want them to be a part of your life.
-Live thankfully. The next time you want to worry and feel defeated, or feel like a victim of your circumstances, think about the tiniest things you have to be thankful for. Maybe it's a toothbrush, maybe it's the soap in your shower, maybe it's a flower in your garden. It's these small things that we take for granted and forget to be grateful for. Stop for a minute and imagine life without the smallest blessings. How does what you are stressing about now compare to that thought? Don't focus so hard on the what-if's, the maybe's, the only-if's, or the I-should-haves. Say "even-if" and train yourself to know that everything happens for your eventual good. We never know the big picture of our life, but can be thankful for all the small things and for the caring of the One who does.
These are our 5 ways to help you start living a simple Amish lifestyle. I hope they help get you thinking, and maybe changing a few habits. Live a more simple life by focusing on now, not the past or the future. Savor every moment!
If you have any other tips, feel free to share them in the comments.
Click on these links to read more about how to live the Amish Lifestyle-
23 Ways to Live the Amish Lifestyle
How to Start Your Day Like the Amish